We-Ryde Lit Light Pattern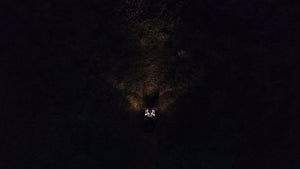 Factory headlights from a drone at night at 75 ft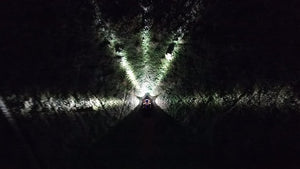 The lights are included in the LIT bumpers from a drone at night at 75 ft
We-Ryde UTV Bumpers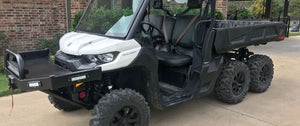 Welcome to Ryde Industries, where we invite you to harness our We-Ryde cargo bumpers to revolutionize the way that you use your UTV. The We-Ryde bumpers are full replacement bumpers for Polaris Ranger, Kawasaki Mule Pro FXT, Full sized Kubota UTV's, Honda Pioneer, and the Can Am Defender, providing for additional cargo space to hold your tools, equipment, and toys safe and securely.
Experience the benefits of our UTV cargo bumpers simply put - you are not going to find a better replacement bumper or similar solution on the market that is more effective in. Enhancing cargo space and providing 260 degrees of built in light around the bumper.
However, these vehicles are not necessarily hailed for their roomy cargo space. With our UTV cargo bumpers, you can add significant storage space without making it uncomfortable to ride in. Addressing your specific needs. Not only do our We-Ryde cargo bumpers give you more space to store your tools, equipment and toys, they also provide a long list of accessories that can cater to your specific needs. You can separately purchase accessories like gun racks, fishing pole racks, ammo/toolboxes, winch kits, hitch assemblies and more.
Now Available! Kubota RTV
Ranch work with the Ryde Cargo Bumper
Our lights at night from a drone!
Now available! Can Am Defender
Now Available! Honda Pioneer
Ranch work with the Ryde Cargo Bumper
Our lights at night from a drone!
Now available! Can Am Defender
Now Available! Honda Pioneer